Let's think of the business scenario, we need to get to the CEO to talk with the stakeholders of the business, the investors, the shareholders, the employees, the customers. Wouldn't it be great if we could click our fingers and all of those people were there, waiting for your CEO to speak.
And of course, you could still control the message!
Leadership in a world of letters
I was talking to a CEO this week, who remembers a time when you sent letters to do business (stick with me on this). It took a couple of days to get there, you would be normal not to respond for a couple of weeks, it could be a month before you get a response.
Now, if you don't respond to a text or a WhatsApp message within the hour, you are rude. We know, information (and bad news) moves at the speed of light.
How can CEOs talk to stakeholders, employees, shareholders and investors at the speed of light?
There are many ways that a CEO can talk with stakeholders, such as employees, shareholders, the stock market, analysts, the Board. Traditionally, they would speak at the end of each quarter, on analyst calls or at shareholder meetings.
In the past, there was a public relations (PR) team that wrote press releases and sent them to various journalists. The problem with that, is there are now so many press releases is that PR has just become noise. Somebody was explaining to me that "old school PR" was still relevant as it protected the brand and provided control to the brand.
The problem for many business "old school PR" isn't fast enough time to respond to internal and external factors. The great news is that you don't need PR to stay in control and stay on brand.
How on earth did the press get hold of that?
There have been a recent number of PR disasters here in the UK, where the leadership was not prepared for the storm that broke out on social media and then the media.
A number of leadership teams where quoted as saying "how on earth did the press get hold of this story?"
It's very simple, customers got crap service, they picked up their mobile phones, took photos and videos of it and posted on social media. Now, you may be thinking, "like durr" of course, but we've had instance after instance of leadership teams not being away that social media, internet and mobile phones exist.
Here is a great example.
What do I mean that PR isn't fast enough?
Think about pre-Covid, back in March 2020, one minute everything was "normal" and the next we are in lockdown. As a business you need to communicate immediately, it cannot wait until the next Board meeting or the next shareholder meeting. They could be weeks away.
We all know that communicating now, when it's timidly, will offer the maximum impact, will get the most PR kudos and will offer the most control. The only way you can do this is at the speed of light, which is for your CEO to be on social.
Sharp intake of breath!
Let me share an example.
Julie Sweet CEO of Accenture can turn on a dime with her communication
Julie SweetAccenture is a great example she posts (whether she does or her PR team do this, isn't the point here) she posts about diversity, sustainability and of course the usual alliances such as SAP.
, CEO of
But we get a feel with what Accenture and what she stands for, if we are thinking about putting Accenture on a short list, about to buy their shares, about to take a job there or even applying for a job. This is all instant communication, with her 170,000 followers, all on brand and all under the control of the business. Better still it's (kind of) human.
I'm sorry, but you cannot send a press release to each shareholder, each investor, each employee, each potential employee. PR doesn't scale, but with social media, you still have control.
This sort of following does not come overnight it requires effort, but you were not expecting a silver bullet where you. But think about what this investment buys you?
Your stakeholders are expecting your response on societal issue at the speed of light
For example, the day after A US jury has found a former police officer guilty of murder over the death of African-American George Floyd on a Minneapolis street last year Julie Street posted
"Yesterday's verdict marks a significant moment for justice. There is much work still to be done in the fight for accountability, justice and lasting change. We commit to continuing to support our people, stand against racism, and work in our communities to create an equal future for all."
Check out her feed, this is not a list of "buy from us because we are great" messages, which you get from most CEOs, these are messages that propose a better world.
What other examples of CEOs are doing this?
, CEO of BP, is able to talk to his 106,000 followers about Mental Health, the move of BP to more sustainability project, as well as talking about people in BP. Again, great if you work at, think about working at, applying to, thinking about investing in, thinking about buying from BP.
But this Bernard is able to turn on a dime, just like Julie at Accenture so there is an article the day after the storming of the United States Capitol in Washington, D.C..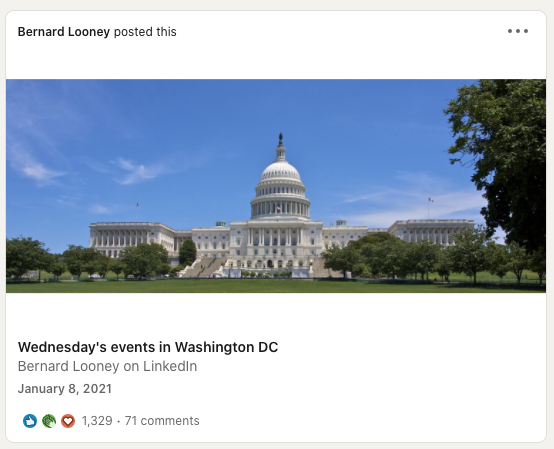 The article is here.
Once again, no old school PR and press releases being fired off into the ether, this is a CEO with a clear message, a brand in control talking a "human-ish" message. And no pushy sales message.
What happens as a CEO when you are behind the curve?
In the world of business things happen at the speed of light, when this happens
This article appeared on the 1st May 2021
The Methodist Church sold its entire stake in Shell over climate concerns
,
The CEO of Shell is Ben van Beurden, he has 61,000 followers on LinkedIn, didn't post this article until the 12th May.
But in this world, (as in the old world of PR) the damage has already been done.
As a CEO you must have program(s) that will look at all of these societal issues and just like old school PR you must be proactive.
In his book "the battle to do good", Bob Langert, McDonald's Chief Sustainability Officer talks about how McDonalds got Greenpeace into advise them on sustainability.
Finally
Danielle GuzmanLinkedIn this research from Brunswick group and stated
from Mercer, posted on
"Employees would prefer to work for a CEO who uses social media by more than a 5:1 ratio compared to a CEO who does not."

Are you a Connected Leader?

This report from Brunswick Group is an excellent read for anyone in a leadership role.
If this article has been useful and you think it would be helpful to your network or individuals then please share it. Please also tag in the individuals.
Other articles you might be interested in ....
Articles for the CEO
Can I be fired for not social selling?
What's the difference between legacy sales and modern selling?
Is making no change to my sales team an option in the world today?
Articles for Sales leadership
Can I get a consistent prospecting framework for managers with social selling?
Can I get complete visibility to measure and monitor each reps results with social selling?
Can I get accountability across my sales team for prospecting with social selling
Can I gain an effective prospecting framework with social selling?
Can cold calling and email marketing kill my business?
Can I measure our social selling project?
Can my lack of confidence of social be holding my team back?
Can I get the most from my sales navigator licenses with social selling?
Can I de-risk my pipeline with social selling?
Can my salespeople create content?
Articles to support sales people - sales process and sales tips
Is social selling inmailing people on Linkedin?
Can I unblock deals with social selling?
Can I get more meetings with VPs with social selling?
Can I get on more short lists with social selling?
Am I being outsold by my social selling competition?
Can social selling stop prospects from ghosting me?
Can I be a catalyst to change with my prospects with social
Can I influence the buyer's journey with social selling?
Can I optimise my selling time with social selling?
Can I gain a competitive advantage with social selling?
Why automation is a zero sum game
Can I get a predictable prospecting system with social selling?
Can I sell $1 Million deals with social selling?
Articles to support channel and third party selling
Can social selling help my channel partners sell more?
Articles to support Account Based Marketing / Account Based Selling - ABM - ABS
Can we make our ABM program a success with social selling?
Articles about Employee advocacy
How empowered employees on social media became more powerful than brands
Articles for Marketing
Can my prospects and clients get value alignment with my business though social selling?
Can we get away with just updating our LinkedIn profiles a bit?
How to Create Simple Social Media Rules for Employees
What content works on LinkedIn and for social selling?
Can I win more B2B deals with buyer enablement?
Should you outsource your social media?
Can I get banned from LinkedIn if somebody else manages my profile?
unknown

x

500
Recent posts from Digital Leadership Associates