The world has accelerated to digital, way back in 2020, I know it seems like a lifetime ago we reluctantly started moving to Zoom and Teams to work. Now Zoom (and Teams) is normal.
This advancement in the world has happened to our buyers as well as sellers.
In this research by Simon Kemp (sponsored by Hootsuite and We are social) he shows the advancement that social media has come. From a destination, a place where we go, to a place where we now spend our time.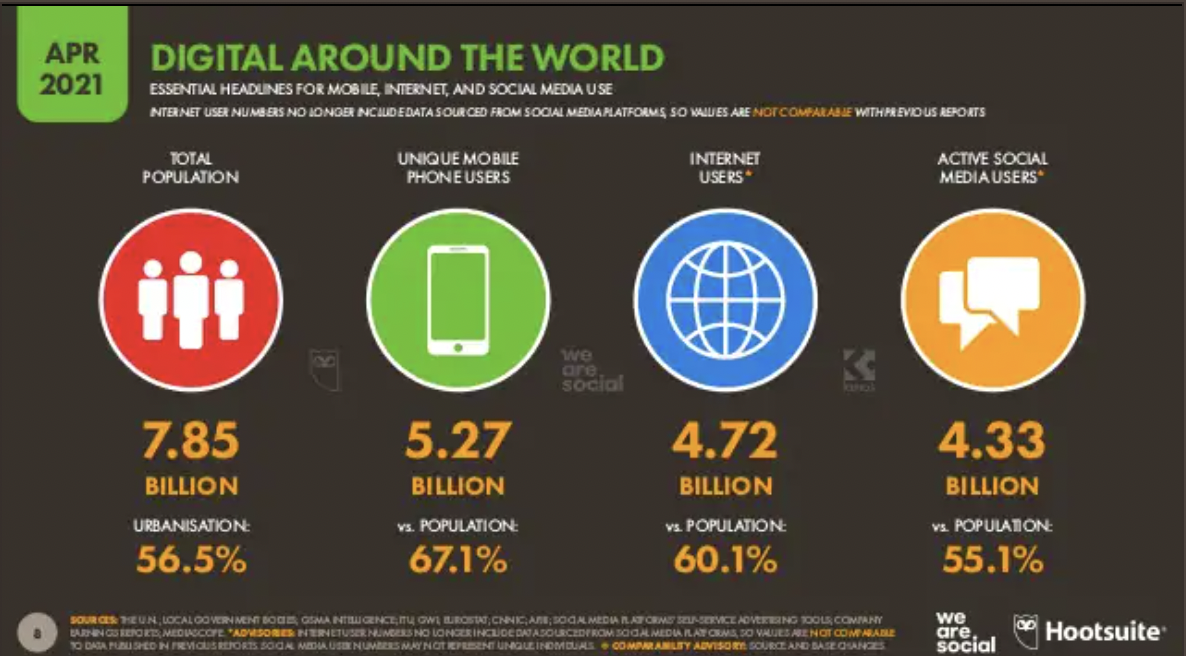 55.1% of the world's population is on social media.
The idea that your clients and your employees are not on social is farcical.
So why are so many company still resisting the move?
We are already on social..
Many companies say to us "we are already on social". And of course, most companies are, but they are on social tactically.
When I was 17 and I learned to drive, I was able to take the "L plates" off my parents car and I could say I could drive. But I had never driven by myself alone, I had never driven on a dual carriageway, I had never driven on a motorway. In fact there has been thousands of situations that I didn't even know existed. Like when you are driving along the motorway at just under the speed limit and the traffic just stops in front of you.
That is the thing with the vast majority of people on social, they do things tactically, but they don't understand how to use social media strategically.
Somebody in marketing posts something every two weeks on LinkedIn, an email goes out and we are all asked to like it. We don't know why and we do what we are told. This is tactical use of social media and I doubt it drives anything for your business, in fact I suspect it's a cost to your business.
The modern business
Social selling is often kept in a "box" by marketing as it's seen as a "marketing thing", one of our many clients sees 5 measures from their digital organization project. Note by change of terminology from "social selling" to "digital organization" as this is the change that people see social. From tactical to understanding you can gain massive competitive advantage by its use. The 5 measures are
Visibility – recognition in the marketplace
Trusted advisor status
Recruitment opportunities
Employee engagement & shared sense of purpose
Pipeline, growth & inbound
From training to transformation
Social selling isn't just about pipeline and yes we can increase your revenues by 30% and reduce your sales cycle by 40%.
It's about you being digital dominate.
One of our clients spoke to one of his friends who also works at a competitor and she said
"when I log onto LinkedIn all we see is your companies content".
and he said "just think what could happen if this was the same for all your clients and prospects?"
But it is also about you being called into deals, we are just closing a deal, because somebody saw one of my videos and said "you are just the person we need to work with". That reduces the cost of sales!
Sales isn't all of it, what about becoming the employer of choice in your market?
How do we get the best talent?
As we come out of the pandemic, talent is going to get tight. So why don't you get all the best talent?
The client mentioned above, recruits people, because people see them online and it looks like a cool place to work.
How do I stop my people from leaving?
What's even better than loads of sales and the best people coming to work for you, is the people that do work for not leaving. Why? Because social media, when you implement it strategically, gives your people a great sense of purpose. I totally get that this is a bit "fluffy" which is why we always suggest on sorting sales out first.
Social is not
Social is not playing around on Facebook all day or posting and hoping something will happen. Social is a strategy that has been designed to drive your business revenue and profit.
Social is more revenue and profit
All businesses today should be able to say, at the board level, how much revenue and profit they derive from social media usage. In fact, you should be able to work back from your profit to every keystroke.
I'll finish with a post from the CRO of the Oracle partner, Namos Solutions, Richard Eltham. The original article re was reposting is here.
Social selling is not an option now it is the way of the world and you either learn and execute it or fear getting left behind
unknown

x

500
Recent posts from Digital Leadership Associates