It's that time again, when Simon Kemp, takes the statistics that are available out there and turns them into this great pack, it's free to access you you can get it here.
It's everything you need to know about digital and everything you need to know and was afraid to ask.
(The reports is paid for by we are social and Meltwater, but Simon compiles it.)
Simon is a great resource to follow on Linkedin, his profile is here.
The current state of digital - How many people are on social media?
Let's start with the opening piece of data, that we always look at, which is this slide that 59.4% of the world's population is active on social media.
And what does "active" mean? The average person on social spends 2 hours 31 minutes a day.
Plus social media usage continues to grow.
Plus as I mention above we are spending more time on social media, with the average person now spending more time on social media per day.
Which is 14 minutes more than the average person watches broadcast and cable TV.
One of the up and coming trends is people that are using social media for search.
Social networks are gaining a greater access to end-user search
I'm not saying that people are not using Google, it's just that it gives us varying results. We know that if we ask "what is the capital of Nigeria?" Then you know it will give a real answer. If you ask "what is the best CRM system in the world?" We all know that 10,000 suppliers will try and buy that search and it won't give us answer.
Our research shows that buyers are searching on social and Google. Our research also shows that search is different on social, often people don't know the answer. We are calling that "discovery".
For example, you will search on Google "what is the best Italian restaurant in London?" There is clear intent, where as on social the buyer is in "discovery" mode and may not know what they are looking for. This is a massive opportunity for brands and salespeople alike.
One of our clients Namos Consulting who are a 100 person Oracle consultancy, they were found by a buyer that was doing a search and that turned into a $2.6 million deal. They have since taken another $0.5 million out of that account. This isn't about fluffy flowers on your Linkedin profile, this is about hard commercial competitive advantage.
We did this livestream with Simon about the difference between discovery and search back in November, you can access it here.
Add to this that half of social media users say they use social networks to learn more about brands.
That's why we say that the modern buyer, your future employees (so the modern job seeker) and the modern investor is all search on social media for your products and services.
Decline in time spent online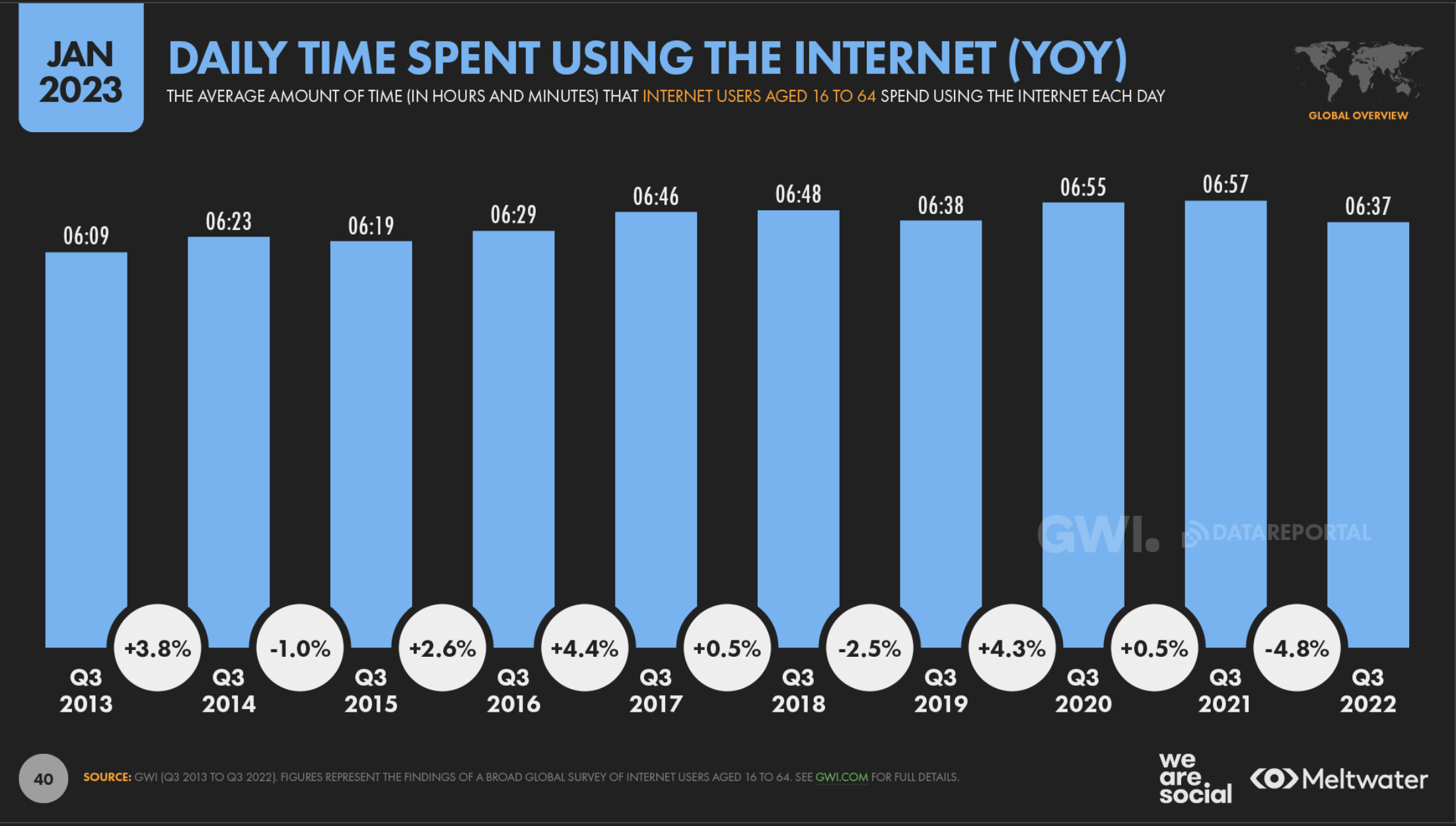 As simon says in the report
One of "the biggest story in this year's report is that the amount of time we spend online has declined by almost 5 percent year on year.
GWI reports that the typical user has reduced the amount of time that they spend using the internet by 20 minutes per day since this time last year.
A year ago, the company's data showed that working-age internet users spent an average of almost 7 hours per day online, but that's fallen to 6 hours and 37 minutes per day in the most recent wave of research."
We suspect that as people mature with their internet use, they get "better" at accessing it and getting what they want. Like search has changed over time, people are now very quick at dismissing what they don't want, blocking people and moving on.
If you are a spammer, or like most business who post nothing more than "buy my product because we are great" brochures, you are not going to get very far.
Great quote from GWI's excellent "Connecting the Dots 2023" report offers a more candid perspective:
"There are only so many hours in the day, and people want to know their online time isn't being wasted."
Reason for using the internet
So fundamentally if your salespeople and employees are invisible on social media without buyer centric profiles you are missing out on all of these buyers and employees.
If you don't have a wide and varied network then you won't be found as people come to social media to search.
If you are not putting out authentic content which is insightful and interests the buyer, and the job hunter, you are again invisible and missing out on the modern buyer.
I suspect this is translating into a lack of pipeline.
Well you know where you can sort the problem, here at DLA Ignite.
A cheap next step would be
Want to know more about social selling, check out my new book
"social selling techniques to influence buyers and changemakers - 2nd edition".
In this brand new edition, I have updated all the text, I have also got 15 practitioners, so people who are doing this already to explain how they are get (practical) business benefit. From the CEO that has been running a digital business for over 18 months to sales leaders who use social selling every day.
Articles on how these business have and are implementing digital, from Mercer, Telstra Purple, Ring Central, Cyberhawk, Namos, Ericsson, Crux Consulting, DLA Ignite and more.
What does Mark Schaefer, Marketing guru think of the book "social selling - techniques to influence buyers and changemakers - 2nd edition"? watch the video here
It's available on Amazon worldwide. Link to Amazon.com here and Amazon.co.uk here.
{
Top stories in our flagship Digital 2023 report include: A big change in global internet user numbers An intriguing decline in various aspects of online activity Rich insights into evolving social media platform preferences Changes in the devices that people use to access digital content and services Some unexpected changes in the world's online search behaviours The startling growth of digital advertising
https://datareportal.com/reports/digital-2023-global-overview-report?utm_content=SK_LinkedIn_Launch_01
unknown

x

500
Recent posts from Digital Leadership Associates