Time, where does it go?
In sales we only have 200 working days in a year so we need to use it wisely.
Efficiency and effectiveness
In the days when I used to compute to work I used to use the time on the train, in the car, etc to think about my day ahead and I would think about how I could use that day the most wisely.
While I was cleaning my teeth this morning, I knew I had this hour to spend before a customer meeting, my thoughts turned to how I could use this hour the most productively. I decided to use the time to prospect, hence why I am writing this blog.
More sales - less time
In Jill Konrath's book "more sales - less time" she advises us to turn off all those bells and whistles that distract us during the day. I've turned off all those email, slack, etc, interruptions. This has helped me focus.
I also highly recommend that you block out time in your diary of those "must do" actions, such as prospecting, follow ups, creating content etc. It's these choices in your use of time that make you overachieve your number or underachieve it. Don't be distracted doing things you like and not doing the things you dislike.
How do I get greater efficiency in my prospecting?
or putting it another way.
How do I get more results for less effort with my prospecting?
How do you get more outcomes from the effort you put in all day?
Move to social selling / digital selling / remote selling / modern selling.
First, you need to have a buyer centric profile, with the right coaching and methodology this is only a day of your time. It's a capital cost, once you have used that time, you won't need to change it.
Second, you need to grow your network. Regardless of what prospecting method you use today, growing your network on social has become part of your prospecting process. Building your network, also benefits you in terms of nurturing deal, accelerating deals and closing deals. Either way, it's a simple and effective investment in you achieving your number.
Scaling Sales - How to get massive productivity gains
The problem with cold calling is it's massive inefficiency. If I make a call and have a 10 minute conversation, that's 10 minutes of my sales time in the year to talk to 1 person.
You may seen in previous blogs where Eric Doyle, part of the DLA Ignite team created a piece of content in 10 minutes, he got 18,292 views of this content, 165 likes and 37 comments. So what? All of those comments, likes are prospecting gold!
What does 18,292 views of this content, 165 likes and 37 comments mean in terms of $s?
This created for him 124 leads, filtering this down it created for him 41 conversations on social, which he turned into 6 C-Level calls. This translated into two proposals and one purchase order (PO).
For 10 minutes invested in prospecting.....
In summary...
10 minutes of cold calling .... maybe you can get through to somebody and have a call.
Vs
10 minutes of social selling ..... 6 C-level meetings, 2 proposals and 1 purchase order.
With the right methodology, you can see there are massive time savings and productivity gains to be had by switching to social selling / digital selling / remote selling / virtual selling / modern selling.
To quote Chris Learmonth the Managing Director of BMW Park Lane, he said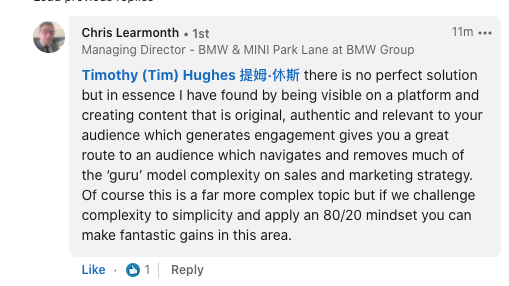 BMW Park Lane is the most successful BMW dealer in the UK. #justsaying
If this article has been useful and you think it would be helpful to your network or individuals then please share it. Please also tag in the individuals.
Other articles you might be interested in are
Can I get a consistent prospecting framework for managers with social selling?
Can I get complete visibility to measure and monitor each reps results with social selling?
Can I get accountability across my sales team for prospecting with social selling
Can I gain an effective prospecting framework with social selling?
Can we make our ABM program a success with social selling?
Is social selling inmailing people on Linkedin?
Can I unblock deals with social selling?
Can I get more meetings with VPs with social selling?
Can I get on more short lists with social selling?
Am I being outsold by my social selling competition?
Can social selling stop prospects from ghosting me?
Can I be a catalyst to change with my prospects with social
unknown

x

500
Recent posts from Digital Leadership Associates