Simon Kemp recently did a webinar recently, here, where he did a round up of his reports that have now been running for the last 10 years, he has even put in some forecasts. Thought I would share these with you and tell a story as to the massive growth of social media usage.
You can get any of the reports I use here and if you want help in looking at the reports, Simon does (paid for) private briefings and you can get hold of him here.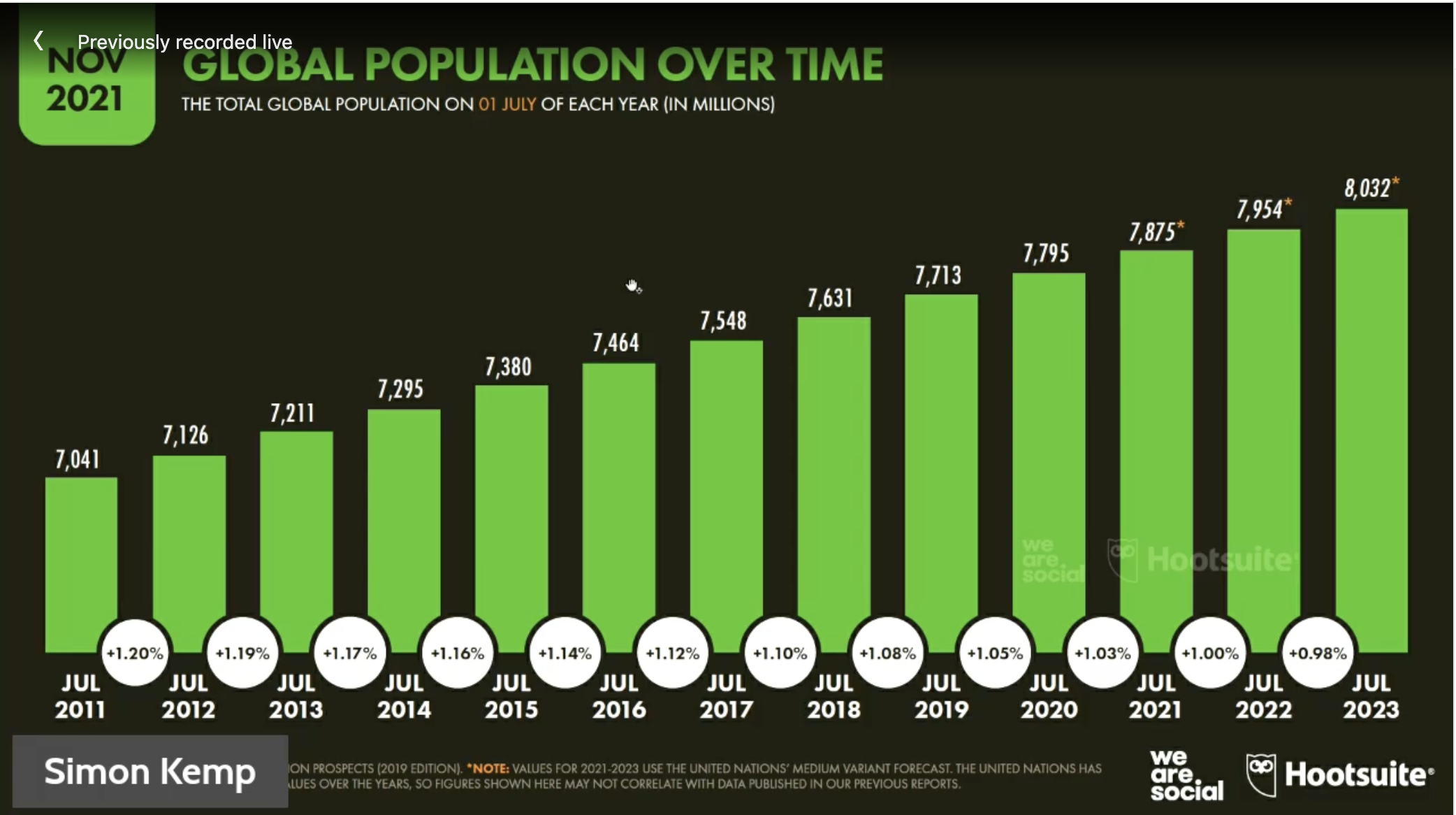 This is the population growth of the world for the last 10 years, note Simon has added three forecasts, which is the first time he has done this.
The world's population is forecast to pass 8 Billion in 2023.
The CAGR (compound annual growth rate of the population) is 1.1% while the CAGR of digital is 8.6%. The growth of digital is growing at 8 times the growth population.
This is the global internet users over the last ten years, we are rapidly approaching 5 billion internet users. It is likely that figure is currently under stated during to the difficulty to get these stats due to Covid19.
Internet users around the world have doubled in the last ten years, but ... digital connectivity is not evenly distributed around the world.
There are 3 Billion people not connected and there is a lot to do in getting people connected to the internet. This isn't just about being connected to social media, but also getting people connected to world's digital resources, this will have an impact on digital mobility.
Let's not forget that the number one reason people use the internet for is finding information.
So what about social media over the last ten years?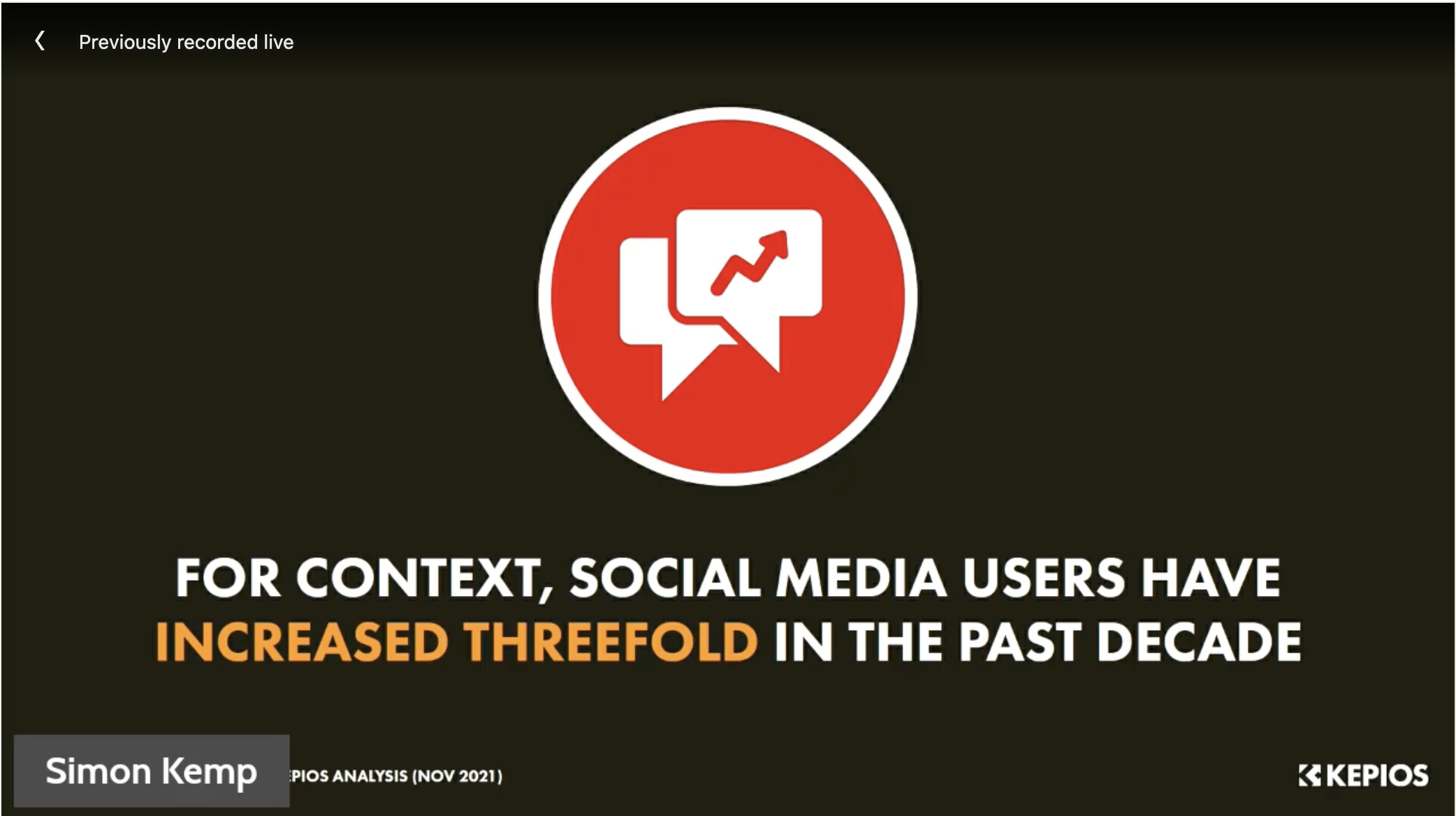 The number of social media users has tripled over the last ten years. I'm guessing this isn't a fad and won't go away soon. 10 years ago there was 1.5 Billion social media users, the current situation for social media for October 2021 is that there are 4.55 Billion active users of social media (58% of the world's population) and this has increased by 10% (400 million users came onto social media for the first time) over the last 12 months. They spend an average of 2 hours 27 minutes using social per day.
Your prospects, your customers and your competition are all on social media.
This is what the growth looks like over the last ten years.
Those with sharp eyed will notice there is a curve to that graph, which means that actually as more people get onto social media, adoption accelerates. Admitly Covid19 pandemic has contributed to people moving more online, but that's my point after all. It's worth noting that even though we have seen parts of the world opening up, growth levels have not dropped back to where they were before the pandemic. In fact we are seeing faster growth now than we did before Covid19.
What do we do on social media?
More than a quarter of us are looking for things to buy or researching things to buy.
So while the average person is spending 2 hours 27 minutes on social media, some countries are spending even more time.
The world will spend 4 trillion hours on social media in 2022, so where will you prospects and customers be spending their time?
And to the Future?

Simon talks in the questions about the future and he says that blockchain, web3, the metaverse is going to have a massive impact on the development of social media. If you want to understand more about this check out my article
unknown

x

500
Recent posts from Digital Leadership Associates