Every Friday, we run a podcast called the digital download.
The digital download came about because of the pandemic. I ran an internal meeting where we get the team online. There is no agenda and we bring along what we have learned, interesting articles, what made as laugh that week. We had one of these meeting internally and somebody said "why don't we do this externally?" and we do.
The digital download we run now every Friday at 14:00 UK - 09:00 AM US east coast.
You can watch it on my Linkedin profile here or find the recordings on my youtube channel here
At one of these livestreams Eric Doyle said something that really resonated with me.
"It's OK not to understand social selling right now .... but not to understand it in a years time, will be career limiting and career suicide".
How come?
Social media has eaten the world of business
In this research by Simon Kemp (sponsored by Hootsuite and We are social) he shows the advancement that social media has come. From a destination, a place where we go, to a place where we now spend our time.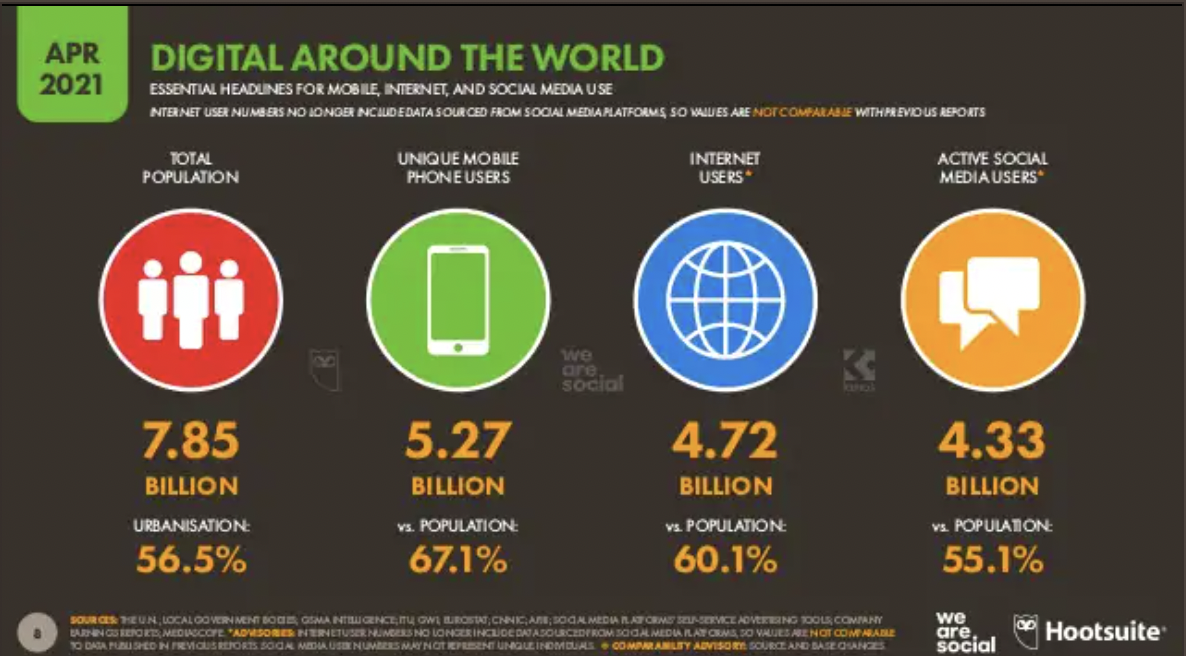 55.1% of the world's population is on social media.
So what? Just think, the opportunity is immense.
Why so many people get social selling wrong
Social is social ....
How about I can pick you up tomorrow from your house and drive you to a place where all your prospects and customers hang out. Wouldn't that be great?
All you have to do is walk up to them and have a conversation with them.
In the past you called people up and pitched to them, you sent them emails and pitched to them, so what you get is people using those tactics on social and they are the wrong methods for a social network.
Using those tactics on social is the same as you walking into that room and to start pitching at people. You wouldn't do that at a networking event as people would call security.
Social as a tactic
Another mistake is that people treat it as a tactic. "Janice" in marketing posts something every two weeks and she sends an email out and asks everybody as "like" the post. This is a tactic and I doubt very much this gives your business anything, in fact it's probably a cost, not a profit.
It's time for a journey
I'm old enough to remember when PCs were introduced and there were a whole bunch of salespeople in my team (about 25% refused to use them). "I'm a salesperson, I don't type", "where will I find the time to type?", "what do we have a sales administrator for?". When I tell people this today, everybody laughs, because we all do our own typing.
These salespeople fell by the wayside because they didn't keep up with technology.
My ask of you
My ask of you is to stand up, to take courage and tell you leadership team that while cold calling and email has worked in the past, it's time to move with the times.
It's time to use social
But this isn't going to be where you piss about with social, there is a long road to nowhere, where people make do. I would love for you to read my first book "social selling techniques to influence buyers and changemakers" available here but would really expect to be a Olympic judo expert by reading a book? Of course you wouldn't. You won't be a social selling expert by following me and reading a blog or two.
This is where you are not going to take that graveyard path, but you are going to see that social selling will be core to your business, a strategy and you want a methodology.
May I talk about myself for a second?
The people here at DLA Ignite are a great team, we lead the way, globally in the pursuit of revenue and profit from social selling. Not to use social as a place to spam, not to worry about this tactic or that.
Our goal is to simply, to get your business, more profit, more revenue and more growth through social. Simple as.
All the team are trained to talk with people who have no idea what social is, we can walk you through, case study, after case study. No sales pitch, just insight and education.
Even if you decide that social isn't for you, at least in a years time, you will know what social selling is.
unknown

x

500
Recent posts from Digital Leadership Associates